We are honored to have been awarded the Prix de Merite last night, a prize that goes to a charitable project created by young people. Despite the strong competition, the committee saw the potential in our project. The Prix de Merite is an award we did not expect after one year of Sharing A Smile and it motivates us even more to continue!

Check out the other finalists and their project who also deserve the award!

@jugendroutkraiz
@escherjugendhaus
Nepal is in a further lockdown as the situation continues to deteriorate and hospitals remain overcrowded. Fortunately, none of the orphans have tested positive yet. In addition, we have equipped the orphanage with FFP2 masks and more disinfectant to strengthen the preventive measures!
April 14th was a very special occasion for the children this year. Not only has the nepalese New Year begun, but they also celebrated the birthday of each and every child!
A big thank you goes to our partner FrëschKëscht, a luxembourgish mini-entreprise founded by young people from the Lycée Robert Schuman. We would also like to thank their customers who made such an incredible donation possible.

If you are interested in Luxembourgish, locally produced goods, we would be pleased if you would visit FrëschKëscht on their Instapage @freschkescht.lu or on their website :
www.freschkescht.lu
To keep the children well focused during school hours, there are now lunch boxes for every child, which are filled with goodies every day.
Thank you LCD-Solidarité for the generous support we received from you! With your help we can continue to provide healthy & sufficient meals for the orphans!
"If you see someone without a smile, give them one of yours" – Dolly Parton

Donate now through our website and ensure the orphans get their next meal!
1500 Chai Lattes have been sold during the last three months of 2020 at Ready?! coffeeshop.

Each Chai has contributed to a brighter future of Nepalese orphans. Thank you @readycoffeeshop and to all our chai drinking heroes!
BIG NEWS!

One year ago, we wouldn't have thought that such a big project would become reality. However, we were positively surprised and supported enormously, so that the orphans now finally have CLEAN running water!

With your help we are one step closer to our goal. One step foward towards an assured future!
Thank you!

Dhirendra and Sarita, both 19 years old are the first ones of their siblings to be able to go to college.

Dhirendra inspired his brothers and sisters by getting a scholarship in engineering. He is thrilled about the subjects and the support he is getting from the other side of the globe.

After a 2 month trip to the countryside, Sarita came back to her home in Kathamndu, where she decided to study after having obtained her high school diploma.
With a strong will to succeed, she immediately started a management program in January at 'Laboratory school'.

Both look forward to a brighter future while doing what they love.
However our children in Nepal never had a right to Christmas gifts until this year. With YOUR help, we will be able to gift each kid a pair of house slippers, warm clothes and access to running water in their home.

We are only at the beginning of our mission and hope that you will continue to support us. Help us create a bright and guarded future for them!
2020 has been a year full of surprises: let's finish it with an enlightening surprise for our orphans in Nepal!

Our goal for this Christmas is not only to install performing water pipes, but also to fulfill one wish per child.

Visit the link in bio to help us create a better tomorrow by sharing a smile from your country to Nepal.
Breakfast is served!

Recently the children have been enjoying a toast with jam or margarine in the morning. Usually they drink warm milk or local tea with it. Everything is prepared early in the morning by Bandanaa Rai and Dalli, who cook for the children every single day!
It's celebration time!

Dhirendra (left) gives his blessings to Saileja (right) during the last festival.

"Thanks to our donors, we were able to celebrate Tihar – the festival of lights – during 5 days. We honored our dogs, ate loads of festive foods, drew a colorful rangola (4th photo) and lit numerous candles in the dark.

After exhaustive mornings of online classes, we could join Momma Samsohang (woman in pink worshipping the dog) in celebrating joyfully. The 5 days of worshipping are destined to feel strength, to get generosity and to attract good luck for the upcoming year."

– the children from Sharing A Smile
Bada Dashain is the longest Hindu festival in Nepal, traditionally celebrated for two weeks with prayers and offerings to Durga, the Mother Goddess.

In addition to worship the Goddess Durga, the children and their caretakers are holding celebrations, for the fertility of the land and a year of good harvest.

Dashain also emphasizes the importance of our big family. All the government agencies, schools, shops and other public sectors are closed during this festival period so the whole family can fully enjoy this special time of the year.

Together with their neighbors, our kids started celebrating. They dressed up, cook, laugh and dance together, which brings this family together even more in this extraordinary time.
Devï will donate 50% of every scrunchy between today and Saturday to Sharing A Smile.
Visit the Pop Up shop "getaway to Rajasthan" and get yours!

Their opening hours:
Wednesday 21 October from 11AM to 9PM

Thursday 22 October from 11AM to 7PM

Friday 23 October from 11AM to 7PM

Saturday 24 October from 11AM to 6PM

See you there!
We would like to thank everyone who supported us with our kniddel sale! YOU helped us! YOU made a change for their future!
On the left you can see Ramlaxmi Bhumi. She comes from a very low-grade family, father and mother work all day long to feed their family. Due to her passion for studying and the terrible living conditions, she was sent to the orphanage to relieve their family of some of the burden and to realize her dream of going to a school.

Next to her is Puspa budha. Her parents have also fought for years to keep their family alive. Since the parents could no longer provide for her sufficiently, she was also brought to the orphanage.

Rajani Nepali is the girl with the blue trousers. Her father left her many years ago for a job in India and has never returned home since. She came to the orphanage at the age of 5 when her mother could no longer care for her.

Santoshi Chantyal is the girl with the glasses. She herself was a victim of a terrorist attack. She herself remained unwounded, but her father suffered severe injuries from which he has not recovered until today.
On Saturday, at 15:45, Sharing a Smile had the honour of being live on RTL Radio Luxemburg. For more information about the interview, click on the link below :).
We are very happy to announce our partnership with Ready?!Coffeeshop. For every purchased Chai Latte 30 cents will be donated to nepalese orphans!
Let yourself be tempted by a portion of delicious "Kniddelen". The purchase of a portion of "Kniddelen" guarantees six complete meals for the orphans of Nepal. In addition, we will also sell jute bags and stickers. The children of the Helpless Children Home thank you for your generosity!
The coronavirus did not only impact OUR everyday lives, but our favorite Nepalese children's as-well.
Since a few months already, their lives have been turned upside down by the lockdown. From March 24th on, the health of the children was our greatest concern, besides education. After organizing medication and clinical thermometers as quickly as possible, we are providing the necessary material to pursue their online studies.

19 children of the orphanage are attending private schools, while the other 18 go to a public school. Public schools are lacking teachers: that's why one teacher teaches up to 50 children in one class and several classes at the same time!

Sharing a smile aims to offer EVERY child the same quality education as soon as possible. We are committed with heart and soul to help children learn by giving them school materials, ranging from pencils to electronic devices.
These four boys have been through a lot of life changing experiences.

Bhawan Malla (left) has no parents anymore. His mother has died and his father is still missing since he went to find work in India.
Bivesh Sunwar, in the white jersey, comes from a very poor family who cannot offer him a bright future. Same for his friend Prashant Paiyar (boy with the gloves) They found their way to the Helpless Children Home in order to have a safer future.
Yagraj Sunwar (boy in the background) lost both parents in the Civil War and was left alone for a long time.

Since then the four very good friends were connected by an inseparable bond.
Due to the fast spread of covid-19 in Nepal, the orphans are forced to stay in their home to avoid infecting themselves and their fellow men. They have a single mobile phone with internet access, through which they all have online courses. In spite of all the changes and the low technical equipment, the children enjoy the online courses.
This is Astha Dhami with her little brother Ayusha. Their mother was killed during the civil war. After her death, their father married a new wife and since then has rejected the children. With the help of relatives, the children have managed to find shelter in the home. Since then, the bond between the two is inseparable. They go to the same primary school as most of the others and love to dance.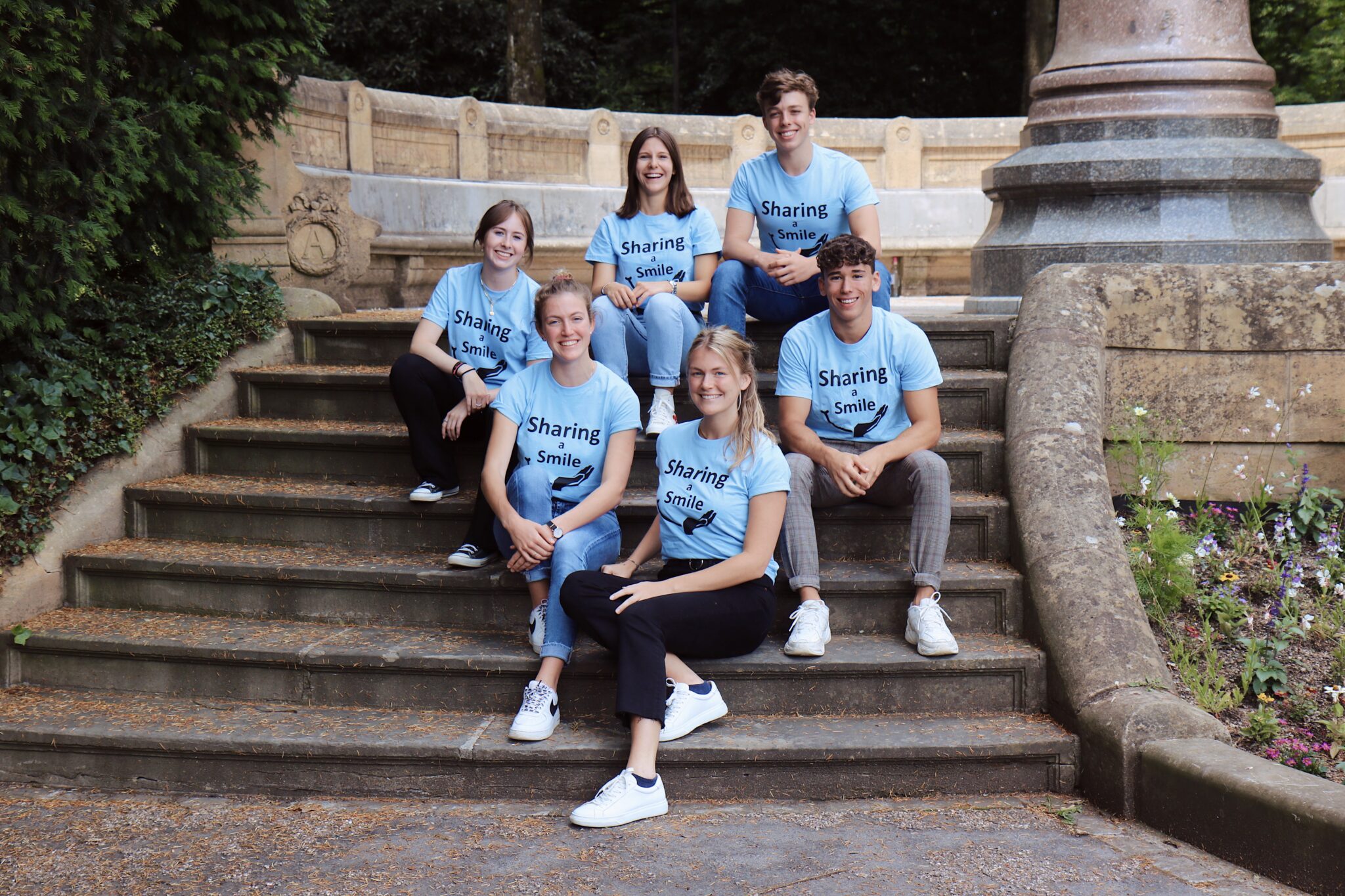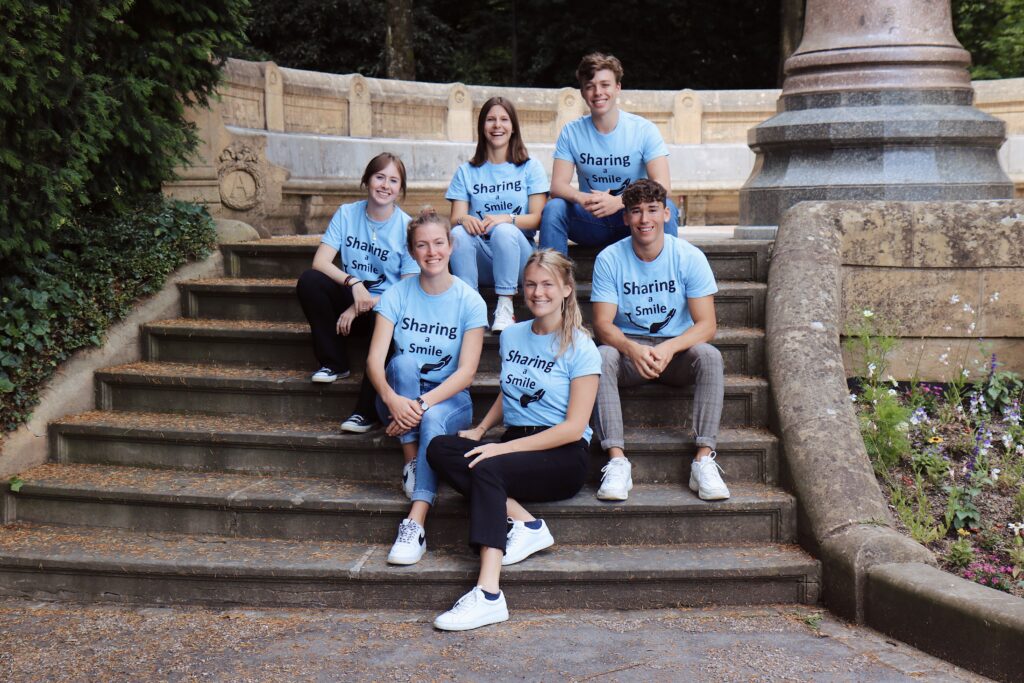 We see poverty. We seek solutions. We take action. We are Sharing a Smile.
Our team consists of 6 engaged students who aspire to create a better tomorrow. We come together to fulfill a common goal: to help the unprivileged by making it possible for you to share a smile with orphans in Kathmandu.
This is Parbati Malla, a nine year-old girl. She's in fifth grade and goes to the same public school as most of the other orphans. Parbati no longer has parents. Both died in the civil war. Since then she's part of the orphanage. Especially during these difficult times, she enjoys entertainig the other children with her dancing.
Nepal is one of the world's poorest countries with 45% of the population living below the poverty line. 50% of nepalese children under the age of 3, suffer from stunted growth. The country is highly unimmunized due to natural disasters such as earthquakes, recurrent floods, and landslides. No hospital in the country completely meets earthquake resistant standards. Between 100,000 to 200,000 persons are internally displaced with difficult access to health care.
Because of the civil war many structural problems of health staff appear: absenteeism, lack of supervision and problems with the supply chain to remote areas are exacerbated by the violent conflict. Since then only 27% of the population has access to adequate sanitation and 30% lack access to safe drinking water. The main causes of morbidity are diarhorreal disease, dysentery, cholera and typhoid.

One of our goal is to provide the Helpless Children home the necessary Health Care especially during this tough time.
This is Asmita Sunuwar. She was born with only one hand and due to her disability her parents, deriving from a poor backround, couldn't afford the care she needs. She is now 4 years old and goes to Adinath School.
Devika Karki has been part of the orphanage for over 10 years. She lost both her parents during the civil war. She is now 13 years old and attends the seventh grade of a public school. Devika enjoys cooking and takes care of the younger ones.
in partnership with frëschkëscht
Frëschkëscht took the generous decision to sponsor Sharing a smile.
A first step from their side is their offer to pay a meal per week for the children during two weeks (from 5. June of 19. June). The orphans receive a filled plate with vegetables, milk products, rice, meat and last but not least fruits. A Frëschkescht contains as many fresh products as the children are going to benefit from through this partnership.
Buy a local and seasonal box full of Luxembourgish delicacies over the upcoming weeks to help the Nepali orphans lead a healthier life.
Click the link below to support this project!
Here are a few photos to illustrate their amazing project 🙂
With our first fundraising campaign we've been able to provide the orphanage with one big meal per week including fresh fruits and vegetables, spices, rice, chicken, crackers, etc.
Due to the current monsoon season, the wood used as for heating the meals, is so wet, they can no longer use it for cooking. We were able to replace the wet wood by buying them gas bottles.
For the first time in a long time, they were finally able to buy some necessary medicine against mild fever, diarrhoea & headaches.
This is Sarswati Sunwar. She's 11 years old and for more than 8 years part of the orphanage! Her father was severely injured during the civil war and is now unable to take care of his daughter. As some other kids of the orphanage, Sarswati has the chance to have an education. She goes to Adhinath, a public school in Kathmandu.
Frequently Asked Questions related to poverty
Dalli is a 25-year old powerful young woman who manages the kitchen in the orphanage. She isn't only cooking for all the kids but she also helps the couple, who built the orphanage, to take care of the children. She joined the Helpless Children Home 5 years ago. She was married at the age of 16 and has given birth to two children. Due to the sudden death of her husband, she was affiliated by the orphanage.
Our shop is online! Check it out!
Of course, all profits go directly to the orphans of Helpless Children Home in Nepal.
A small video of Vero's stay at the helpless children home in Kathmandu, Nepal. Even though most of the children lost both of their parents, they still manage to keep such a big smile on their face. And now it has become our mission to guarantee this smile. We can help each kid by providing them with food, health care, and an education! We need to make the step and help those children who really need our help! Because in the end, we are all the same with all the same rights! And every child does have the right to an education.
Let's make it happen!
We would like to thank all those who have made donations to ensure a healthy and balanced diet for the orphans of "Helpless Children Home" in Nepal. You guys are adorable.
A closet sale that saves lifes
Are you looking for quality and used clothing to fill or embellish your wardrobe while doing something good for our planet ? Or would you like to sell your clothes online in a fast and sustainable way ? Then the 'sharingyourclothes' closet sale on Instagram is the right choice for you.
For more information about the items for sale and the participation formalities please click on the link below ! 
Good luck !
Buddha jayanthi's (founder of Buddhism) birthday is a Buddhist festival, one of the biggest celebrations throughout the year of the nepalese population because they believe that Buddha was born in Lumbini, Nepal. The celebrations takes place every year on it's first full moon of Vaisakha, a month of the hindus calender. Even the children from Helpless children home went to a buddhist temple to celebrate this special occasion and ate out for once. They wore masks and held distance as they could.
Our beneficiaries have successfully received our first donation in Kathmandu, from which they bought healthy food, including rice, vegetables and beans.
Everyone helps in the preparation of the food such as cooking and serving the meal.
The first video shows a girl crushing herbs in order to get cooked.
Before any meal, the kids thank god for their food by singing a little prayer.
17.04.2020
Don't forget to check out our social media accounts 
Although these kids have been stuck in quarantine for 18 days already, they're always trying to find ways to keep busy. Some of them pass time by playing badminton or watching TV. They're always wearing their masks, even as they are in lockdown at home, and everyone is anxiously waiting for everything to be over.
This sweet girl lost her father in an accident one year ago. Simritu Budhathoski has been able to call the orphanage her home ever since. She now attends the public school in her new hometown.
The little princess on the left is called Aaryana Samsohang, who's mother died while giving birth to her. When she was 9 months old, she was lucky enough to be adopted by the lovely family who owns the orphanage. However, when she first arrived her health was in a deplorable condition. She only had a 50/50 chance of survival, but after 3 months of intense care and love, Aaryana recovered.
14 years ago a couple opened an orphanage taking care of 37 lovely children. Most of them, having lost their parents in a civil war in the West of Nepal, urgently needed a loving home.
Sunitaa, a warm hearted woman, takes care of these children as a mother would. She provides food and shelter for them, making their safety her number one priority.
We will engage in fundraising activities to raise aid and give people in developed countries the opportunity to share a smile from one continent to another, being able to choose which project they will support, and being informed on the updates of each development. Starting in Kathmandu, Nepal, we want to improve the life conditions of some orphans.